Schedules can prove to be very helpful for a business that needs inbound calls to their numbers to point to different targets at different times.
With no schedule set, what you have programmed in the menu "Inbound Calls Handling" will be the inbound target for your number 24 hours a day, 7 days a week.
If you need a schedule, please see below for an example of how to set one up.
Here is a common scenario we will use for creating a schedule :
Your business has two Automated Attendants, one for Open Hours, and one for After Hours.
Noted below is your schedule you have in mind:
| | |
| --- | --- |
| When? (Day of week, hours) | Where does the call need to go ? |
| Monday-Friday 9am to 5pm | Ring Open Hours Automated Attendant |
| All other times during the week | Ring After Hours Automated Attendant |
Guide & Template
Once you have created your two Automated Attendants, head to "Cloud PBX" - "Schedules":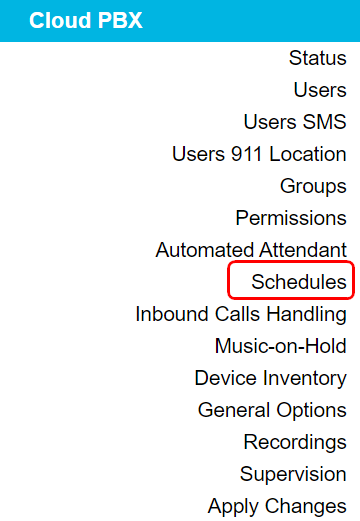 Next, give your Schedule an identifiable name and click "Create"

Click "New Entry"
Give it name and check off the days and set the hours you want. (You must use 24 hour clock for the time range!)
Choose as a target, the automated attendant A5100 Day. Click Save.

Next there is an entry called "Default", which corresponds to "any other time not specified".
So far you have specified what happens between 9h-17h Mon-Fri.
So the target for "default" will be reached, only if it is not between 9h-17h Mon-Fri.
Set the Default Target to "A5200 Closed"

Next, you will need to point your number to your Schedule, otherwise it will not be active.
Go to "Cloud PBX" - "Inbound Calls Handling"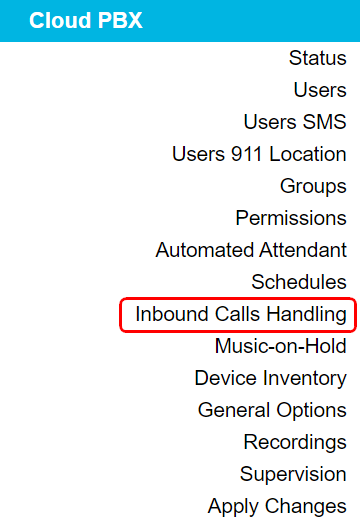 Beside the number, and under the column "Route to", select "S5012 Regular Season" (or whatever name you chose).

Then, go to "Cloud PBX" - "Apply Changes", and click "Provision".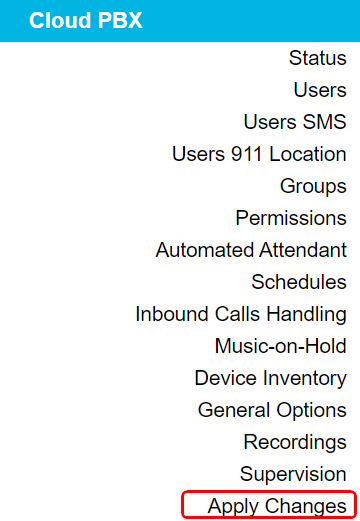 That's it, your schedule is now up and running!
Note: If you would prefer a more flexible routing where you can change modes from "day" to "night" with a star code or programmed key, the solution is to use our Night mode programming.
Click here to learn how use the Night mode feature.