Supervisors can press *4 followed by the extension of the­­ user to supervise, and they will immediately enter "Listen-In" mode. They can also program a BLF/Xfer presence key (see below).
All call supervision is initiated as "Listen-In" mode
Supervisors can also program a key on their phone to initiate the call supervision.
To program the star code as a BLF/Xfer key, choose any label, and the value will be *4 followed by extension.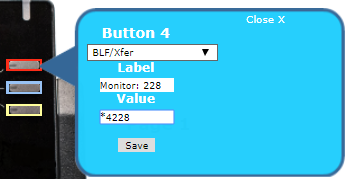 Please note that the when you first program the key, it can take up to 10 minutes for the BLF presence to light up when the user is on the phone.