In the menu Cloud PBX > Recordings , you can configure a Dropbox App Folder, which will receive the recordings.
We have placed the instructions below:
1) Select the Dropbox storage type & fill in the token (which is generated in your Dropbox account)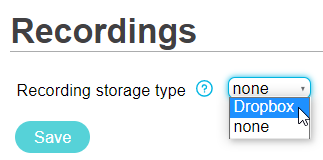 2) In Dropbox
https://www.dropbox.com/developers
​


- Choose ''Scoped Access'' and select App folder
3) Name the app
4) Click "Create app"
5) Once created, click on the tab Permissions (Very important to do this step right now in the process!)
a. Activate the permission files.content.write
b. Click on Submit

​


c. You will receive this confirmation



6) Click on the tab ''Settings''

a. Click on the button "Enable additional users"

​


b. You will receive the message below.
c. Click on ''Okay''.


d. Select the drop-down menu ''Access token expiration'' and choose ''No Expiration''.
​

e. Click on ''Generate Access Token''



7) Finally copy the access token and paste it in your web portal under Recordings - Dropbox access token.
8) Click ''Test'', and then ''Save''

If successful :


The Dropbox account is now linked to your Cloud Business Phone service.
If you come back in the Cloud PBX recordings menu after linking an external storage, you will see the following which indicates that your account is already linked to a Dropbox App Folder: