You can access your call forwarding settings in your web portal and you can also set them up with star codes.
Go to Settings - Telephony Feature Settings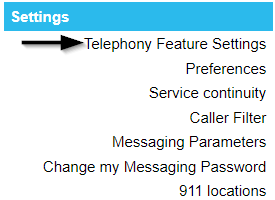 Enter in the number you would like to forward calls to, and select what kind of forward you would like to apply.

Choose if you want it to ring until you reach the other number's voice mailbox, or limit the amount of rings after forwarding to be able to have the call return to your voice mailbox.
The first example shows a maximum of 10 rings to happen after the call is forwarded. If the cellphone has less than 10 rings set, the call will land in the voice mailbox of the cell phone 514-555-4444.

The second example shows 3 rings after forwarding. Supposing the cell phone 514-555-4444 had a ring count of higher than 3 rings, the result will be that the call will return to the voice mailbox of your Home Phone service if the call is not picked up.

Click save, and you have now setup your call-forwarding.