Overview
Cloudli is all about flexibility and convenience. That is why we make it possible for you to connect using different devices. Choose the device that best suits your needs. Here are some of the devices you can use:
Use your regular telephone set. You will need to connect it to an Analog Telephone Adapter (ATA) which in turn connects to the Internet.
Use Cloudli's desktop application on your computer.
Use Cloudli's mobile app on your Apple iOS or Android device.
Use an IP-Phone, which is a telephone set with built-in Voice over IP (VoIP) capabilities.
Regardless of which type of device you use, if you purchased it from us it will be automatically configured.
If you already own a device or purchased one from another vendor, you need to configure it according to the instructions that come with it. Make sure it is a SIP-enabled VoIP device. We can provide you with generic information needed to properly configure a typical SIP device, but before using one from a third party, you should check with us to make sure that specific model has been properly tested and certified interoperable with our network. Due to variations in characteristics of different SIP devices, we cannot guarantee how well uncertified devices will work.
Have look at the following sections to know which devices are available from Cloudli.
Telephone Adapters
The OBi302 Universal VoIP Adapter
Connect the OBi302 ATA to your phone and enjoy the benefits of voice calling over the Internet.
Price: $69.95
Includes:
2 phone ports to connect analog phones, fax machines or a PBX system
1 (WAN) Ethernet connection to a broadband modem or router
1 (LAN) Ethernet connection to connect computers, hubs or switches to the Internet
1 USB 2.0 port
See the product Data Sheet for more details.
Get better audio quality with an optional USB headset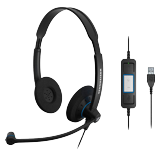 Price: $69.95
Custom designed for Unified Communications users, the SC 60 USB CTRL headset features Sennheiser HD stereo sound, a noise-cancelling microphone and maximum call-handling flexibility.
Features and Benefits:
Compatible with Business Phone service
Quick and easy set-up with the USB connector
Call control features: answer/end a call, volume up/down, microphone mute, redial last outgoing call and reject incoming call
Sennheiser HD voice clarity – wideband sound for a natural listening experience even in noisy environments
Noise canceling microphone – crystal-clear voice transmission and cancels background office noise
High-Comfort – large dual-sided ear pads in an ultra-lightweight headset for relaxed wearing
Bendable boom arm – ensures microphone position is always optimal.
ActiveGard™ – technology protects you from acoustic shock and sudden sound surges
Peace of mind – 2-year international warranty
See the product Data Sheet for more details.